Cats Protection - News : Food for Ferals Appeal
Food for Ferals Appeal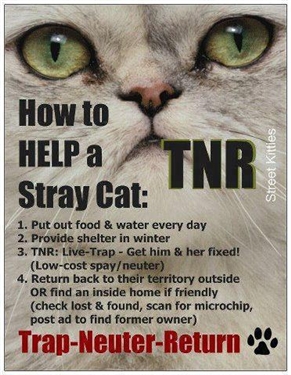 Sadly there are more and more feral cats on our streets than ever before, despite all the trap neuter return work we do there is a huge problem in our area.
Recently we have seen a surge in starving ferals, whereas once they were fed by locals now they aren't and there just isn't enough food for them in hunting and they are destined to a slow agonising death from starvation, a starved feral hasn't the energy to hunt.
We need your help to provide food for these ferals, I know we are always asking for help such as food for kittens and food for cats in care and am sorry to have to ask for even more but even the cheapest supermarket dried food would help feed these ferals.
It breaks our volunteers hearts to hear as we did today of a colony of 15 plus cats at an industrial estate in Darlington who used to be fed by business owner but now aren't and are gradually getting more and more skin and bone, we are going to provide some food but cant promise indefinitely without your help!
There are colonies like this all around our area who are asking us for help!
We are constantly neutering as many ferals as people trap but more and more people cant be bothered too trap and take to vet for neutering then return and instead just want rid, they think starving them will make them go away but these ferals have nowhere to go. Trap Neuter Return is the only proven and humane way to deal with feral cats.
Please if you can help contact catwomanmaz@gmail.com